Naperville 203's 2022 INCubatoredu Pitch Night took place on May 11!
Fostering entrepreneurship, professionalism, and initiative in high schoolers! The Naperville Education Foundation has partnered with Naperville 203 to serve as the fiscal agent for Business INCubator, facilitating philanthropic support for entrepreneurial education.
NEF provides seed money for student teams' minimum viable product (MVP) pitch, and a public "Shark Tank" like event (INCubator Pitch Night). At Pitch Night, NCHS and NNHS student business teams pitch their creative and innovative entrepreneurial ideas to determine which teams will obtain additional funding to take their projects to the next level. You can help student teams actualize their business by becoming an INCubator sponsor! Email nef@naperville203.org for more information.
---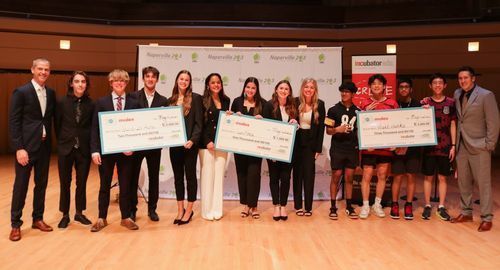 Congratulations to all student business teams for such a successful semester, the 2022 winners, Scent Sacks, Gard-In Home, and TeenForce, and to the first ever "Wild Card" team, CommUter! Thank you to our INCubator teachers, advisors, judges, and to Innovation Sponsor, Molex, for supporting our young entrepreneurs!
Catch a glimpse into Pitch Night 2022 here:

Recent Videos