NEF's Charity Heroes at the Naperville Half Marathon and 5k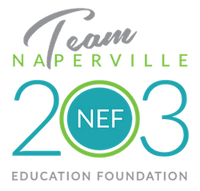 TEAM NEF is a group of parents, teachers, students, staff, and community members, running or walking and raising funds for NEF and Naperville 203 schools as Charity Heroes in the Healthy Driven Naperville Half Marathon & 5K on Sunday, October 16, 2022.
Registration is now closed. Support one of our 249 Charity Heroes below! 
Who is TEAM NEF?
Members are first-time 5k walkers, long-time half-marathoners, and everyone in between. You receive a personal fundraising page to share with friends and family to help you raise at least $203*, with half going to the Naperville 203 school of your choice, and half supporting NEF-funded district-wide programs. You can also choose to have all your funds support NEF. Raise funds leading up to race day, then come together on Sunday, October 16, 2022 for a day of fun and fitness with TEAM NEF. 
In 2021, TEAM NEF raised more than $85,000 for the students of Naperville 203. These funds help bring great ideas to life, remove barriers to learning, and support each school's unique community! 
* Fundraising commitment is $203 for an individual and $30 for each additional family member in celebration of NEF's 30th year. Family members do not all need to run or walk in support of the same school.
Registration for 2022 closed on August 31. Registration for 2023 will open in early 2023.
Congratulations to Scott and Naper Elementary Schools!
Scott and Naper Elementary Schools were the TWO schools with the highest percentage of participation (based on school enrollment) by May 27, 2022! They each won an extra $500.00 for their school. 
Thank you to our sponsors:
Email nef@naperville203.org for more information.
---