2019-2020 Gratitude Report
Click on the Annual Report thumbnail to download the report.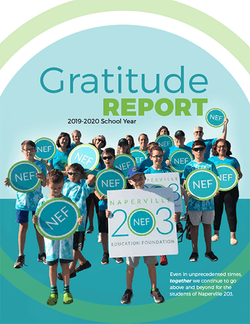 Financial Statements
NEF facilitates opportunities for growth, promotes and supports a healthy interaction between the Naperville 203 schools and surrounding community, and encourages excellence in learning through creative teaching.
The Naperville Education Foundation would like to acknowledge all of its donors for their generous contributions in support of the students of District 203. These gifts support the NEF's mission to by allowing NEF to make a positive impact within Naperville 203 schools.