It's beginning to look a lot like... Giving Tuesday! This year, there are lots of ways to help NEF bring great ideas to life, remove barriers to learning, and support each school's unique community on November 30, the worldwide day of generosity.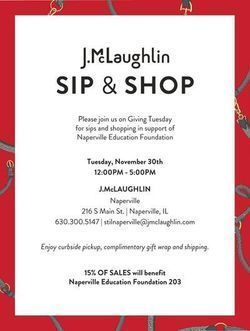 Sip, Shop, and Support NEF!
Celebrate Giving Tuesday by shopping at J.McLaughlin!
Give and do good by shopping at J.McLaughlin Naperville on Giving Tuesday (Nov. 30)! 15% of your purchase will go to NEF. Thank you to J.McLaughlin Naperville for hosting this fun and fashionable way to give back! 
Building a Passion
Celebrate Giving Tuesday by sponsoring Building a Passion!
Mark your calendars for the return of Building a Passion! The Building a Passion Breakfast is NEF's annual fundraising event where businesses, community & elected leaders, district leadership, parents, and members of the district and school communities gather to celebrate NEF. This year, we will celebrate NEF's 30th anniversary, connecting NEF's past, present and future with a trivia themed program hosted by special emcee, ABC7 anchor Alan Krashesky on March 23, 2022.

Celebrate Giving Tuesday by supporting Express Grants!
Our November Express Grant winners have been announced on our website! Express Grants, made possible by you, are a quick and easy way for Naperville 203 staff and students' great ideas to become reality in the current school year. Your support allows us to provide up to $1,000 for staff and students' great ideas.
Congratulations to our November winners!
Thank you for participating in Giving Tuesday!