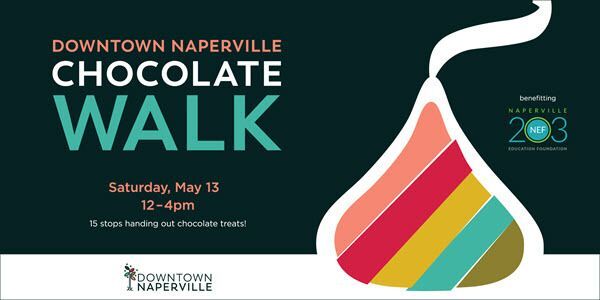 Tickets are SOLD OUT for the Chocolate Walk on Saturday, May 13, 2023. Thank you for your support of the students of Naperville 203! 
Join us this Mother's Day Weekend for the eighth annual Downtown Naperville Chocolate Walk on Saturday, May 13! NEF is proud to partner with Downtown Naperville Alliance for this tasty event. Each ticket holder receives an NEF bag to carry their tasty treats and a map to guide them to participating stores. Each store will have a chocolate treat for ticket holders!

All chocolate treats are donated by participating businesses and event proceeds benefit NEF.
About the event
Tickets are $30 per person

The event will take place on Saturday, May 13, 2023 from 12p.m.- 4p.m., with final check in at 2p.m.

This is an all-weather event and tickets are non-refundable

Check in at the Naperville Public Library's Nichols Library Community Room (200 W. Jefferson Ave, lower level) to receive your map and NEF bag. 

Parking is available throughout downtown as well as the Water Street Parking Facility and the Municipal Center, both located off of Webster St between Aurora Ave and Water Street

At each stop you'll receive your chocolate treat

Please feel welcome to shop around, take your time, and check out all that Downtown Naperville has to offer!

The Naperville Education Foundation encourages creativity, innovation, and excellence in District 203 students by helping to ensure that every student in the district can take advantage of opportunities to make the most of their education. Proceeds from the walk will benefit NEF-funded programs that bring great student and teacher ideas to life, remove barriers to learning and support each school's unique community.
PLEASE DO NOT PURCHASE TICKETS FROM THIRD PARTIES as we cannot guarantee authenticity.