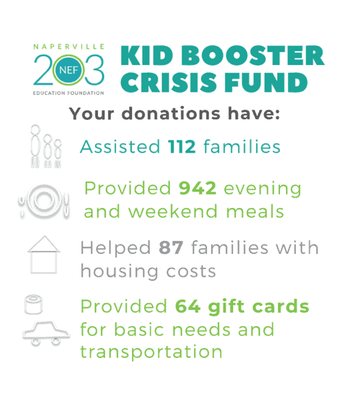 While our students prepare to return to school virtually, NEF and our community are coming together to ensure EVERY child has the best possible chance to learn and take advantage of the exemplary education that Naperville 203 has to offer.
Naperville 203 before and after school childcare partners, Champions and the YMCA, are expanding service to include an all-day elementary childcare option at school locations. Financial assistance is available through the state, through scholarships from the childcare providers, and once all other sources of funding have been exhausted, through the Kid Booster Crisis Fund. 
Why is childcare support needed?
Unanticipated childcare costs will be a challenge for families with fewer financial resources.

Childcare cost can be a barrier to a parent returning to work.

Parents who have faced job loss may have more difficulty affording childcare.
The Kid Booster Crisis Fund continues to fund needs related to housing, meals, basics and transportation as they arise. Your generous support has helped 112 Naperville 203 families since March and throughout the summer. 
We ask you to continue your support so that together we can continue to make a difference in the lives of Naperville 203 students.
The Kid Booster Crisis Fund is a part of NEF's existing Kid Booster Anonymous Fund, which helps students in times of need and always has. This fund is accessed by the district's social workers to meet the needs of the most at-risk students in our community. They access this fund when no other source of funding can be found. It's the safety net for our students.